Li Shan Oolong
This is the first of the five samples I ordered during TeaVivre's $1 Anniversary Sale. Though the quality of my sample was a little underwhelming, it served as a great demonstration of how to identify dry tea quality. Enjoy.
It's been a while since I've had a non-roasted Taiwanese Oolong tea. I've been on a Rock Oolong kick, so it's nice to revisit what made me crazy about oolongs. Chinese Rock Oolongs and Taiwanese Oolongs are NOT the same at all. Basically, Rock oolongs are usually roasted and tightly rolled or twisted, while Taiwanese oolongs are "nuclear green colored" and have a massive buttery taste to them. Comparing a Chinese Tiguanyin and a Taiwanese sample will give you a complete understanding of this distinction
After dumping the leaves into the gaiwan, I was immediately disappointed. TeaVivre usually has immaculate quality for their teas, and I was left with some very erratically sized leaves and rolls.
I went ahead and found some samples to demonstrate my dismay. The one second from the right is the ideal oolong tea spherical roll. I had to filter out a lot of dust and debris during the rinsing process. This is a case example on why you should rinse your tea!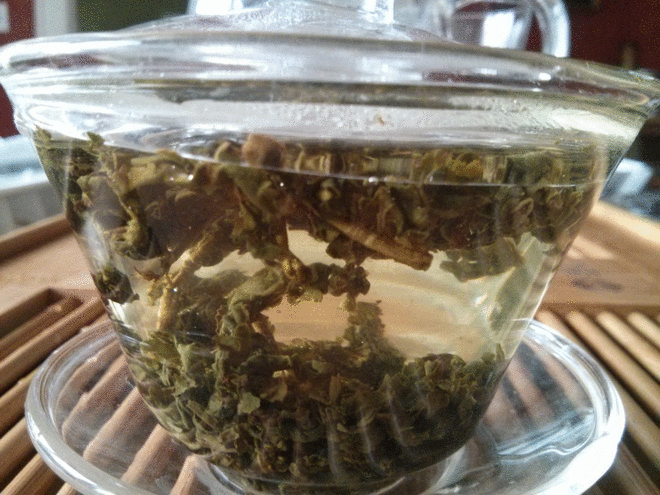 This is a time lapse of the second infusion. I love how oolong tea explodes to fill up space, extracting the flavor and taste from all of the tea surface area. This tasting was a great way to demonstrate the rationale behind some gongfu brewing techniques.
The exposed leaves. Aside from the dinky tea particles that were filtered out, the intact leaves were right on target. Eating a few, they seemed more rigid and fibrous than usual. I'm really on the fence about it the quality of this tea before tasting it (look I know it's just a sample, but come on!).
The color was a dull yellow, with less buttery mouth feel than most Taiwanese oolongs. I found the tea pretty pedestrian, though I would definitely be willing to take another shot at it with a better sample.
I would urge you to checkout TeaVire's website, which includes a scanned copy of the tea's Pesticide Test Report. This is a new feature for me, and much appreciated. The more information that is provided, the better, when you're consuming a beverage that was grown 2000 meters on the cold mountain of LiShan on the opposite side of the world! Learn more about Oolong teas from the Tea Series.
Tea is rad.